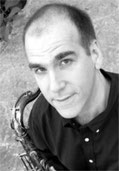 Mark Lopeman took up the saxophone at an early age in Cuyahoga Falls, Ohio. The beneficiary of a strong public school music program, Lopeman quickly acquired a strong musical foundation. His saxophone teacher, Bob Cole, noting his interest and ability, gave Lopeman books on arranging and improvisation.

 Upon his matriculation to high school Lopeman took up the baritone saxophone in order to join the Akron Jazz Workshop, a rehearsal band led by Roland Paolucci whose members, of widely-varying ages, included music teachers, former professional musicians, and college and high-school students. At this time the Cleveland/Akron area was fertile ground for young saxophonists; young Lopeman heard and played with local players including Joe Lovano, Ernie Krivda, Rich Perry, Ralph Lalama, John Orsini, Rusty Higgins, Sam Riney, Ralph Carney, Lou Marini, Jr. and Mark Vinci. (He met Cleveland native Ken Peplowski and Youngstown native Bill Kirchner, both of whom contributed to "Nice Work If You Can Get It", later on.)

While still in high school he subbed in the Kent State University Lab Band in a concert with Dizzy Gillespie. Lopeman later attended college at Kent State, the Eastman School of Music and Akron University, earning bachelors and masters degrees in music. At Eastman he studied arranging with Ray Wright and jazz history and improvisation with Bill Dobbins.
After completing his degree at Eastman Lopeman focussed on the tenor sax and in 1980 performed at the Notre Dame Collegiate Jazz Festival with the Akron University Jazz Ensemble, then directed by Paolucci, garnering an award as most outstanding instrumentalist. He also played in a quartet led by Akron composer/pianist Pat Pace, in rock/show band "Revelation", led by his boyhood friend, trumpeter Dave Banks, and Jack Schantz' "Jazz Unit". During his early post-college career he went on the road with the Glenn Miller Orchestra and the Tommy Dorsey Orchestra before moving to New York in 1981, whereupon he continued his "road" career in Broadway show troupes of "Annie" and "On Your Toes" and played a brief stint on lead tenor with Woody Herman before joining the Buddy Rich band on lead alto (1983-84). While he was with Rich the band also backed up Frank Sinatra, Tony Bennett, Sarah Vaughan and Mel Torme.
Arriving back in New York Lopeman played with bands led by Toshiko Akiyoshi, Loren Schoenberg, Mel Lewis, Vince Giordano and others. He met and, in 1986, married painter and graphic designer Susan Manley.  Gerry Mulligan himself asked him to transcribe his own arrangements from Miles Davis' "Birth of the Cool" recordings and Lopeman eventually toured briefly with Mulligan's "Rebirth of the Cool" band.
Among his many other musical associations, Lopeman has been a member since 1984 of Vince Giordano's Nighthawks, a band devoted to jazz and big band music of the 1920s and 30s. His varied career has included all sorts of arranging, recording and film projects.  Mark is a noted transcriber of classic jazz recordings, including work for John Lewis (American Jazz Orchestra), Dizzy Gillespie, Smithsonian Jazz Masterworks Orchestra, Carnegie Hall Jazz Orchestra and Lincoln Center Jazz Orchestra.  He has contributed as arranger and performer to the film and TV soundtracks of "Bloodhounds on Broadway", "Finding Forrester", "Ghost World",  "The Aviator", "Kill Your Darlings", "The Good Shepherd",  "Boardwalk Empire", "Carol", "Mildred Pierce", "Bessie", "The Marvelous Mrs. Maisel", "Fosse/Verdon", "The Irishman", "The Joker" and others.  His Broadway credits include tours with the Broadway shows "Annie" (1981-82) and "On Your Toes" (1985-86); performances on Broadway with "Dreamgirls", "After Midnight", "Bullets on Broadway", "Honeymoon in Vegas", "Chicago", "Hello Dolly", "Carousel" and "Tootsie". His orchestral arrangements, orchestrations and restorations of classic studio orchestra recordings have been performed by Michael Feinstein, the Pasadena Pops, Palm Beach Pops, Ken Peplowski, Michael Berkowitz and others.