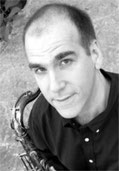 Mark Lopeman took up the saxophone at an early age in Cuyahoga Falls, Ohio. The beneficiary of a strong public school music program, weekly organ concerts and singing during services at his local church, and his parents' otherwise-annoying habit of leaving FM radio constantly playing, Lopeman quickly acquired a strong musical foundation. His saxophone teacher, Bob Cole, noting his interest and ability, gave Lopeman books on arranging and improvisation. Lopeman responded by writing arrangements and learning to improvise. Lopeman saw a glimpse of the future when his father took him to hear a concert by the Glenn Miller Orchestra (then directed by Buddy DeFranco). 
Upon his matriculation to high school Lopeman took up the baritone saxophone in order to join the Akron Jazz Workshop, a rehearsal band led by Roland Paolucci whose members, of widely-varying ages, included music teachers, former professional musicians, and college and high-school students. At this time the Cleveland/Akron area was fertile ground for young saxophonists; young Lopeman heard and played with local players including Joe Lovano, Ernie Krivda, Rich Perry, Ralph Lalama, John Orsini, Rusty Higgins, Sam Riney, Ralph Carney, Lou Marini, Jr. and Mark Vinci. (He met Cleveland native Ken Peplowski and Youngstown native Bill Kirchner, both of whom contributed to "Nice Work If You Can Get It", later on.) Amazed at how many different notes Thad Jones could pack into one voicing, Lopeman studied as many scores as he could get his hands on.
His teacher Bob Cole, who was also an officer of the Akron branch of the musicians' union, persuaded Lopeman to become a professional musician by the simple expedient of hiring him to play the circus. Once Lopeman realized that this work paid much better than mowing lawns or delivering papers, and involved much less physical exercise, he never looked back. He began his career as a professional arranger in much the same manner, when his saxophone teacher in high-school (Joe Schiavone) hired him to write ten vocal arrangements and Paolucci hired him to transcribe several Bill Holman arrangements.
While still in high school he subbed in the Kent State University Lab Band in a concert with Dizzy Gillespie. Lopeman later attended college at Kent State, the Eastman School of Music and Akron University, earning bachelors and masters degrees in music. For a time he took up both the oboe and the bassoon, in addition to the sax, flute and clarinet. He studied with a wide array of woodwind teachers, most notably his saxophone teacher at Eastman, Ray Ricker, and his clarinet teacher at Akron University, Judy Pauley. At Eastman he studied arranging with Ray Wright and jazz history and improvisation with Bill Dobbins.
After completing his degree at Eastman Lopeman focussed on the tenor sax and in 1980 performed at the Notre Dame Collegiate Jazz Festival with the Akron University Jazz Ensemble, then directed by Paolucci, garnering an award as most outstanding instrumentalist. He also played in a quartet led by Akron composer/pianist Pat Pace, in rock/show band "Revelation", led by his boyhood friend, trumpeter Dave Banks, and Jack Schantz' "Jazz Unit". During his early post-college career he went on the road with the Glenn Miller Orchestra and the Tommy Dorsey Orchestra before moving to New York in 1981, whereupon he continued his "road" career in Broadway show troupes of "Annie" and "On Your Toes" and played a brief stint on lead tenor with Woody Herman before joining the Buddy Rich band on lead alto (1983-84). While he was with Rich the band also backed up Frank Sinatra, Tony Bennett, Sarah Vaughan and Mel Torme.
Arriving back in New York Lopeman played with bands led by Toshiko Akiyoshi, Loren Schoenberg, Mel Lewis, Vince Giordano and others. He met and, in 1986, married painter and graphic designer Susan Manley. During this time, incensed at what he considered an unjustly-issued traffic ticket, Lopeman enrolled at Columbia Law School, which he attended from 1987 to 1990 (with honors) while also fathering two children and maintaining a busy schedule of arranging, transcribing and performing. He passed the bar and soon began practicing law with a small firm headed by a brilliant (and broad-minded) senior partner, Robert Tofel.
To Lopeman's surprise the phone kept ringing with offers of musical engagements. One day in 1992 the receptionist in his law-firm office told him "Mister Lopeman, while you were out you got a call from a Mister Gerry Mulligan." Noting in amazement the 203 area code on the message, Lopeman asked, "Do you know who he is?" "No," the receptionist answered indifferently, "he never called here before." Mulligan asked Lopeman to transcribe his own arrangements from Miles Davis' "Birth of the Cool" recordings and Lopeman eventually toured briefly with Mulligan's "Rebirth of the Cool" band.
Among his other musical associations, since 1984 Lopeman has been a member (most of the time) of Vince Giordano's Nighthawks, a band devoted to jazz and big band music of the 1920s and 30s ("and sometimes the 40s"), with whom he has contributed to several movie soundtracks.
One day in 2010 his daughter Rosie, a talented artist, saw him practicing and surreptitiously painted a watercolor of him. Soon the painting was on "facebook" and somebody said it would make a good cover for a CD...
Postscript: Time marches on. By 2014 the law firm closed its doors and now Mark is busy playing and writing music fulltime. Currently (2018) he completed a run as a member of the orchestra for the Broadway revival of "Carousel", and performs regularly with Vince Giordano's Nighthawks, Ron Sunshine, and others. He still owns a tux, and a car.